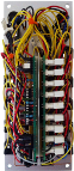 Cam Expert is one of the world's premiere producer of high-quality patch panels. We work hard to create the panel that suits your needs, fits your machine, and works perfectly every time. Having a properly working front patch panel is important for any machine, especially machines as precise as CAM or computer-aided milling machines.
Each of our front patch panels have been carefully designed with your qualifications in mind. We take everything into consideration before creating your panel. For example, we consider: drawings; pin sharp engravings; tapped blind holes; cutouts; scratch-free surfaces; perfected edges; and much more.
The difference between Cam Expert and other companies!
Too many patch panel companies think they understand your best interests, yet refuse to listen to your considerations. Cam Expert is not like these other front panel providers. Instead, we work hard to create a panel that suits your needs, and that will please your customers. Our panels are highly praised throughout the industry, by a variety of pleased customers who have never seen a more perfectly designed front panel.
All our services are designed with your needs in mind. We offer a wide variety of services and front panel designs, that are perfectly priced for your company. At Cam Expert, we pride ourselves in our work speed and accuracy. You'll be stunned by how quickly we get you your patch panel. Some designers take weeks to craft your panel: depending on the panel, it may only take us a matter of days to finish!
Patch Panel - high quality materials only!
Cam Expert offers only the highest quality materials for your patch panels. No cheap particle board, or poorly crafted plastic for us. Instead, we work with aluminum, Plexiglas, and composite board. Our material thickness runs from 1.5mm to 10mm. All materials are carefully tested before use, and discarded if there is any structural weakness. We only offer high quality products, that please our customers, and make them come back for more.
If you are interested in front panel symbols and characters, just let us know! Give us a drawing of where you want your engravings, and we will match your specifications flawlessly. Various colors are available for each symbol, giving you the kind of diversity you crave in your front panels.
Call or e-mail us today to get started! Tell us what you want over the phone, and we'll send you a quote the same day. If you are interested in three and one-day services, let us know.