Aluminum Front Panels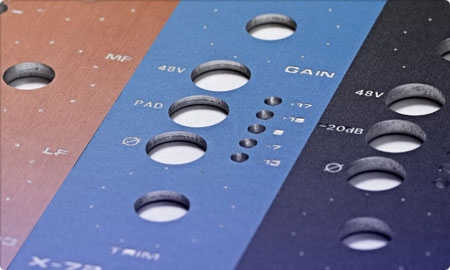 The aluminum we provide for front panels is AA5052 (Al Mg2.5). We create our anodized panels on high quality RPM CAM machines which produce a scratch free, burr free surface. The back surface of these panels are not guaranteed to be scratch or burr free.
After aluminum panels are anodized, all cut edges will expose the raw aluminum. Customers may request CAM EXPERT to anodize the panels after milling which will leave no raw edges. This option is available in panels up to 22" x 24". Hard coat anodizing is available on request.
The thickness of the panels in stock range from 1.5 mm to 6.0 mm. The largest size panel that can be milled is 990mm (39") by 1245mm (49"). Panels are available in a wide choice of colors and we can anodize some colors as well as provide a gloss finish after milling is complete.
Special Order: Panels can also be custom ordered as thin as 1.0 mm and up to 10.0 mm thick.
Customer Supplied: You can also supply your own material. Please contact us before you ship the material for manufacturing.
Thickness (In Stock)
1.5 mm (0.0591 inches)
2.0 mm (0.0787 inches)
2.5 mm (0.0984 inches)
3.0 mm (0.1181 inches)
4.0 mm (0.1575 inches)
5.0 mm (0.1900 inches)
6.0 mm (0.2400 inches) available in raw and natural only
Colors (In Stock)

Raw Aluminum
AA5052. 1.5mm, 2.0mm, 2.5mm, 3.0mm, 4.0mm, 5.0mm, 6.0mm and AA5052. 1/8", 1/4"

Natural Anodized Aluminum
AA5052. 1.5mm, 2.0mm, 2.5mm, 3.0mm, 4.0mm, 5.0mm, 6.0mm

Black Anodized Aluminum
AA5052. 1.5mm, 2.0mm, 2.5mm, 3.0mm, 4.0mm, 5.0mm, 6.0mm

Pespi Blue Anodized Aluminum
AA5052. 1.5mm, 2.0mm, 2.5mm, 3.0mm

Dark Blue Anodized Aluminum
AA5052. 2.0mm, 2.5mm, 3.0mm
Colors (Special Order)

Orange Anodized Aluminum

Red Anodized Aluminum

Bordeaux Anodized Aluminum

Medium Bronze Anodized Aluminum

Champagne Anodized Aluminum

Light Gold Anodized Aluminum

Gold Anodized Aluminum