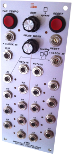 If you're looking for a high quality instrument panel, you should try Cam Expert. We have decades of experience crafting high-quality instrument panels, and have followed all the latest trends and technological updates involved in crafting panels. All our panels are made using computer-aided milling machines, for the most precision anywhere on the market. Contact us and send in drawings, pin sharp engravings, colors, countersink holes, scratch-free surfaces, and perfect edge requirements. We will perfectly follow your requirements, to craft an instrument panel that not only fits your needs, but is easy to control. It'll also look fantastic!
Unique instrument panels!
Do you have a unique company logo you want engraved on the front of your instrument panel? Send us the design, and we'll etch it right where you want it. We can also etch various numbers, symbols, instructions, and colors into your panel. Our multi-color panel instrument panel design style lets you create panels that suit your instruments' unique color needs. There's simply nothing like having an instrument panel that can impress you, your workers, and your customers.
Don't settle for a panel that looks cheap, or that simply "works." Our instrument panels are designed to be the highest quality, best looking instrument panels available. All panels are designed using the highest quality Plexiglas, aluminum, and composite board. There's no cheap particle board or plastic used in any of our panels. Panel material thickness varies depending on your needs, starting as thin as 1mm and stretching all the way up to 10mm.
All types of panels
Whether you're looking to make a general purpose control panel, a patch panel, highly-specialized panels, or micro instrument panels, Cam Expert is your best bet. Our high quality panel experts go through years of training, and update their certifications regularly. We employ only the highest quality designers and crafters, because we know perfect quality work saves both of us money. That is why our high-quality panels are available at such low prices: we get them perfect the first time, meaning no adjustments or alterations need to be made after they're done. Standard design and build time for our panels is five days. That's right: you can have your instrument panel from us in less than a week. Some panel designers take weeks to get back to you. We offer same day cost estimates, as well as one and three day accelerated build times. We're just that good. Call us today.