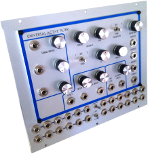 Cam Expert delivers high quality control panels for computers and other types of electronic equipment. Using extremely precise tools and your designs, we are able to produce control panels, front panels, and instrument panels, just to name a few.
We accurately meet your needs for a high quality product that you will be satisfied with. Our prices are competitive and our products are top of the line. Running at 60,000 RPM, the milling machines we use to make your control panel are computer aided, ensuring clean cuts, high accuracy, and precision to meet the standards you would expect from our services and products. These machines are very quick and allow for your order to be completed in a timely manner. Configurations for our milling and cutting machines include cavities, countersinks, holes, rectangular openings, and many other geometric shapes to make certain we can cover any design you may require.
We can also use our tools to engrave characters in symbols into your control panel with specific color and font types. Our machines use your designs and direct instructions.
Your control panel meets your needs!
Our unique, German-sourced software requires that your designs are in specific formats. You are able to send in your designs as these preferred file formats: DXF, DWG, EPS, and AI. If you have your own preferred file type or a design on paper, an additional cost for the conversion to digital will be added to your order. These requirements are put into place so that we can insure that your control panel meets your needs.
We offer three types of materials that can be used for your control panel, electronic panel, front panel or other product. They are aluminum, plexiglass, and composite board. These materials can be ordered in specific thicknesses that range from 1.5mm to 5mm. If you need something thicker for your project, we can offer you up to10mm, but only in non-ferrous metals, aluminum, and plexiglass.
Cam Expert is looking forward to work with you!
At Cam Expert, we offer prototype building services and we are great with large quantity orders. We can give you detailed same-day quotes and make your hassle-free order as simple as possible. It usually takes about 5 business days to manufacture orders and up to 5 business days to. We have three-day services as well as one-day service, both available at an extra cost. Do not hesitate to contact us today with any questions you may have about your possible order with us and we look forward to working with you.